Red content provides organization leaders (business, government, academic, volunteer) with a better understanding of the workshop's purpose, content, and outcomes. The red text would not necessarily be part of the agenda that would be distributed before and/or at the half day or longer workshop
1) Welcome (5 min.) (Establish context and getting everyone settled in)
2) Outcomes – (5 min.) By the end of the workshop, each individual participant should be able to:
Describe one or more recently discovered interesting aspects of the human brain that have practical value
Use the preceding to take a fresh look at multitasking, team formation, habits, and negativity bias
Explain how you and/or your team could use five or more tools to promote deeper and broader thinking
Apply one or more of the tools as groups to get started on defining or resolving some important issues, problems, or opportunities facing your organization
Illustrate how you could use the workshop knowledge and tools in your work and personal life
3) Brain basics: You don't have to be a brain surgeon (25 min.) (Left and right brain, brain as a muscle, conscious and subconscious minds, dominance of habits, negativity bias)
4) So What? Some personal practical uses of brain basics (20 min. or more) (Taking multitasking to task, using the Medici Effect to form teams, replacing bad habits with good habits, offsetting negativity bias)
5) Break (15 min.)
6) Tools to make even better use of our brains: For use by you and/or your team (30 min. or more) (Borrowing brilliance, fishbone diagramming, mind mapping, taking a break, playing what if, and possibly more – descriptions and applications of each method)
7) Breakouts: Application of tools to some of your organizational problems, issues, and/or opportunities (45 min. or more) (These are real technical and/or non-technical concerns identified by you and/or others and briefly described in writing prior to the workshop. Useful at least partial solutions will occur. To the extent feasible, the breakout groups should consist of 3 to 5 individuals and those individuals should be as varied as possible. "Mix em up.")
8) Sharing results of breakouts (30 min. or more) (Do this as time permits. However, ask each breakout group to at least roughly document (e.g., outline/sketch) their results so you and others have the benefit of their thinking and collaboration and can continue the effort after the workshop)
9) Wrap up: Compare intended to actual outcomes (5 min.) (I would value a post-workshop evaluation that you conduct so that you and get some improvement ideas)
---
a) The workshop will draw on ideas, principles, information, methods, and examples presented in my book Introduction to Creativity and Innovation for Engineers, published by Pearson in 2016.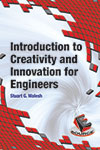 b) Another presentation option, for multi-office/location organizations, is a webinar series.
---
Learn More About Stu Walesh | Clients Served | Testimonials & Reviews
Managing and Leading Books | Tailored Education & Training
Home | Legal Notice | Privacy Statement | Site Map
Copyright © Stuart G. Walesh Ph.D. P.E. Dist.M.ASCE
Web Site Design, Hosting & Maintenance By Catalyst Marketing / Worryfree Websites