Remember When You Almost…
Almosts
Remember when you almost submitted an abstract for a conference and it was almost accepted, you almost wrote and presented the paper, you almost met some influential people, and you almost helped some members of the audience?
Or, remember when you almost ran for the city council, almost ran a campaign, almost met some great people, and almost got elected and made significant contributions to the quality of life in your community?
Then there was the time you and your spouse almost took a year off, almost traveled around the world, almost learned so much about various cultures, almost learned much more about yourselves, almost refocused the rest of your life, and, in turn, almost positively impacted many people.
Recall the dream of having your own business. Remember when you almost prepared a business plan, almost gave notice, almost found your first client, almost grew the business and yourself, and almost shifted from seeking job security to finding career security?
By challenging you to recall "almosts" I am not arguing that we should charge ahead with every new challenge, adventure, or whim that pops into our heads. However, I am suggesting that many of our creative, aspirational ideas die a sudden death because we immediately rationalize and conduct a risk analysis. We begin thinking of why we can't do such a "crazy thing."
Rather than seeing obstacles to be overcome, we see insurmountable barriers -- reasons why our imagined challenge or adventure cannot be done; it is not practical, costs too much, don't have the time, what will people think...?
We quickly dismiss or more thoughtfully rationalize away one inspirational possibility after another, anyone of which could have been a highlight of our lives.
Lives punctuated with many "almosts," "could haves," and "should haves" will probably seem comfortable on a day-by-day, month-by-month, and soon year-by-year basis. However, those soft, almost could have or should have lives may end with hard regrets. "We must all suffer from one of two pains: the pain of discipline or the pain of regret," according to motivational speaker Jim Rohn, "discipline weighs ounces while regret weighs tons."
Each of us goes around just once. Let's make it the best ride possible, for ourselves and for the benefit of others. And regardless of our past, especially if it is one of regrets, let's start anew by following this advice of Scottish theologian Carl Bard: "Though no one can go back and make a brand new start, anyone can start from now and make a brand new ending."
My wife and I, along with our German shepherd, experienced an adventure as a result of working out a way to live our dream. We cruised for six months on our trawler, traveling 5,000 miles from the southern end of Lake Michigan, along a large clockwise U.S. and Canadian route, to Mobile Bay, Alabama. The vessel became our winter home in the South for several years after which we sold it and moved on to our next dream -- a second home in Florida.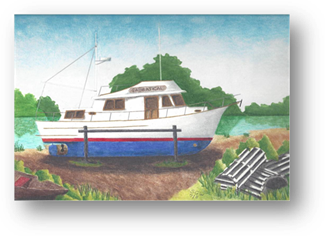 Images sources: Pixabay and author
Note: I welcome opportunities to speak, teach, conduct workshops, and collaborate about any aspect of personal growth and development such as goal setting, time management, habit change, delegation, writing, speaking, and earning trust. Contact me at stu-walesh@comcast.net or 219-242-1704.
My clients and services provided are listed here.
---
Learn More About Stu Walesh | Clients Served | Testimonials & Reviews
Managing and Leading Books | Tailored Education & Training | News & Events
Home | Legal Notice | Privacy Statement | Site Map
Copyright © Stuart G. Walesh Ph.D. P.E. Dist.M.ASCE
Web Site Design, Hosting & Maintenance By Catalyst Marketing / Worryfree Websites