What Readers Are Saying About: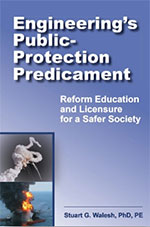 Several months prior to publication of this book, various individuals agreed to receive and review an advanced reader copy (ARC). Reviewers offered the following comments, shared with their permission:
We cannot fail to act or our "profession" will not attain/maintain status as a profession. —Brad Aldrich, PE, F.ASCE, F.NSPE, NSPE Past President, Senior Associate, Aldrich + Elliot.

A truly outstanding book that has the potential to contribute significantly to making engineering a true profession…should be required reading for all engineering students. —Monte L. Phillips, PhD, PE, Dist.M.ASCE, F.NSPE, Professor Emeritus, University of North Dakota, ABET Past President, NAFE Past President, NSPE Past President.

I did not anticipate that I would enjoy reading the book -- as opposed to reviewing the book -- as much as I have. —Thomas A. Lenox, PhD, Dist.M.ASCE, F.ASEE, Executive Vice-President Emeritus, ASCE.

In this "must read" for anyone who cares about engineering, Walesh not only celebrates engineering's accomplishments, but he also sets out an honest, no-holds barred account of how engineers have often been their own worst enemies, thwarting this venerable profession from taking its rightful place as the greatest of the professions. —Paul Spinden, Professor of Law, School of Law, Liberty University.

A spectacular book explaining and advocating for advancement of the engineering profession. —Kassim M. Tarhini, PhD, PE, Professor of Civil Engineering, U.S. Coast Guard Academy.

Case studies are extremely well written and illustrated and will be of real interest to the general public. —Jonathan Jones, PE, PH, D.WRE, Chief Executive Officer, Wright Water Engineers.

I believe this book will be historically important parallel to several reports published in the early 20th century. —Takeya Kawamura, PE, PMP, Senior Research Engineer, Engineering Advancement Association of Japan, Japan Society of Professional Engineers Past President.

This book challenges the sometimes-entrenched culture of U.S. engineering by rewriting the narrative surrounding the role of engineering in serving and protecting the public. It makes a convincing case that we need licensure and process to accomplish that objective and puts forward concrete suggestions for keeping public protection paramount. —Jeffrey S. Russell, PhD, PE, Dist.M.ASCE, Vice-Provost for Lifelong Learning, Dean, Division of Continuing Studies, University of Wisconsin-Madison.
---
Post-Publication Comments — Supportive and Otherwise
Important topic and the forefront of my professional efforts … Proud to support. —Frederick Tack, PE, D.WRE, ENV SP, Associate, GHD Inc.
I believe you nailed it with awareness toward the public-protection predicament topic and how our current education system is due for a nudge. —Dan Kelleher, PG, CIPM, President, Midwest GeoSciences Group.
Your book is an important contribution to the field of engineering education and I hope that it will be well received, as the book deserves it. —Tomasz Arciszewski, PhD, Professor Emeritus, Civil-Environmental-Infrastructure Engineering Department, George Mason University.
The NAE [National Academy of Engineering] does not take a position on licensing across the engineering disciplines…I cannot provide you support for your positions on licensing. —John L. Anderson, PhD, President, National Academy of Engineering.
A significant contribution to society. —Mary C. Hansen, Owner, MC Hansen Graphics.
Reading was like sitting with Stu listening, as he effortlessly and patiently shared what he was thinking, clearly, with noted "heads-up" caveats… Stu occasionally stated that he might be wrong! In a contest for respected texts on the subjects noted, this document would be "the prime source." —William M. Hayden Jr., PhD, PE, CMQ/OE, F.ASCE.
Your insight into…cultures created by laws exempting manufacturing, government, etc. engineers from licensure is eye-opening… I do hope that your book and lecture series turns this around by having people question why on earth they would accept non-licensure, given the risk it poses to the public.—Margaret Allan, Principal Engineer and Practice Lead for Engineering, Matrix Solutions, Edmonton, Alberta, Canada
Important topic and the forefront of my professional efforts … Proud to support. —Frederick Tack, PE, D.WRE, ENV SP, Associate, GHD Inc.
I practiced under the PE industrial exemption and was targeted for promoting ethics, licensure, and professionalism, then forced to resign. I became a PE in spite of that treatment and then worked hard in IEEE to support ethical engineers for the next 50 years. Don't give up! —Walter L. Elden, PE, IEEE & SSIT Life Senior Member.
---
Note:
Author Walesh welcomes opportunities to speak, write, or collaborate about topics related his book. Contact him at 219-242-1704 or stu-walesh@comcast.net
---
Learn More About Stu Walesh | Clients Served | Testimonials & Reviews
Managing and Leading Books | Tailored Education & Training
Home | Legal Notice | Privacy Statement | Site Map
Copyright © Stuart G. Walesh Ph.D. P.E. Dist.M.ASCE
Web Site Design, Hosting & Maintenance By Catalyst Marketing / Worryfree Websites