Note: I wrote this "mini-biography," which is part of an evolving series appearing on my website, to help inquisitive individuals of all ages learn more about engineering. We may know something about engineering because we frequently see or use the results of engineers' efforts. Another way to learn about engineering is to meet some exemplary engineers. Mae Jemison, engineer, MD, astronaut, consultant, professor, entrepreneur, author, and speaker is an exemplary engineer. Read her story and, if you want to know more, use the sources listed at the end.
Stuart G. Walesh, PhD, PE
stu-walesh@comcast.net
Aspiring Child and Supportive Parents: Dealing with Societal Pushback
Born the youngest of three in Alabama in 1956, Mae Jemison's family moved to Chicago when she was three years old. Already as a young girl, she wanted to go into space inspired, in part, by the "Star Trek" television series and troubled by the absence of women astronauts. Her curiosity sparked varied interests, including science and dance, while gender and race stereotypes created challenges.
Jemison, with the continued support of her parents, rose to the occasion with a mixture of assertiveness and education. She entered Stanford University at age 16, earned a bachelor's degree in chemical engineering, while also serving as head of the Black Students' Union and choreographing a musical and dance production—then, off to Cornell, earning a Medical Degree (MD) degree in 1981.
Careers: Engineer, MD, Astronaut, Consultant, Professor, Entrepreneur, Author, Speaker
Jemison worked as a general medical practitioner, served as a Peace Corps Medical Officer, entered into private practice, and took graduate-level engineering courses. Inspired in part by Sally Ride, the first American woman in space in 1983, Jemison applied to the U.S. astronaut program and was selected as one of 15 individuals comprising NASA Astronaut Group 12, the first group established after the January 1986 Space Shuttle Challenger disaster. Her astronaut service included shuttle launch support, shuttle computer software verification, and an eight-day space mission on shuttle Endeavour in 1992.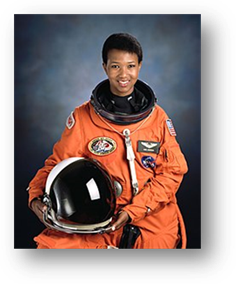 Mae Jemison, engineer, MD, astronaut, and other careers.
Source: Public Domain1
Jemison resigned from NASA, and in 1993, founded the Jemison Group, Inc., a consulting firm that addressed the sociocultural impact of technological advances. In honor of her mother, she established the Dorothy Jemison Foundation for Excellence, which, among other activities, conducted science camps for 12 to 16 year-olds in the United States, South Africa, Switzerland, and Tunisia.
From 1995 to 2002, Jemison was a professor of Environmental Studies at Dartmouth College and became Professor-at-Large at Cornell University in 1999. Also at that time, she, started BioSentient Corp and obtained a license to commercialize a technique to use biofeedback and autogenic training to help patients suffering from motion sickness, anxiety, and stress-related disorders.
Her first book was a memoir, Find Where the Wind Goes, which was published in 2001 for children. In 2013, she and co-author Dana Meachen Rau,published A True Book, a four-book series for children.
In 1993, Mae Jemison appeared in an episode of the television series "Star Trek: The Next Generation," the first real astronaut to appear on "Star Trek." Over the past three decades, she used her astronaut platform and engineering and medical background to speak about the quality gap in health care between the United States and less developed countries, appear in and consult on television series, advocate teaching arts and sciences together, and give commencement addresses. Jemison has accepted ten honorary doctorates in science, engineering, letters, and the humanities and has been recognized in many other ways.2
Advice: Respect and Protect Your Imagination
What can we learn from Mae Jemison's life, especially the very young among us? She provides this answer: "Don't let anyone rob you of your imagination, your creativity, or your curiosity. It's your place in the world; it's your life. Go on and do all you can with it, and make it the life you want to live." Jemison adds this, in effect, be-careful-about-who-you-hang-around-with advice, "Never be limited by other people's limited imaginations."
And then some advice for parents, and maybe teachers and counselors: "My parents were comfortable with me exploring areas that they were not proficient in. Some parents just aren't comfortable with that." 3 As a footnote, Jemison's successes may suggest that, in formal education, engineering is a good place for a young person to start and a growth or exploratory mindset, as opposed to a fixed mindset, will propel him or her forward.
Cited Sources
Public Domain. "File:Mae Carol Jemison.jpg." https://en.wikipedia.org/wiki/Mae_Jemison#/media/File:Mae_Carol_Jemison.jpg, accessed July 13, 2020.
Wikipedia. 2019. "Mae Jemison." https://en.wikipedia.org/wiki/Mae_Jemison, accessed June 18, 2019.
Inspiringquotes.us. 2020. "Mae Jemison Quotes and Sayings." https://www.inspiringquotes.us/author/9349-mae-jemison, accessed April 15, 2020
Learn More About Stu Walesh | Clients Served | Testimonials & Reviews
Managing and Leading Books | Tailored Education & Training
Home | Legal Notice | Privacy Statement | Site Map
Copyright © Stuart G. Walesh Ph.D. P.E. Dist.M.ASCE
Web Site Design, Hosting & Maintenance By Catalyst Marketing / Worryfree Websites