Arthur E. Morgan: Renaissance Engineer
Note: I wrote this "mini-biography," which is part of an evolving series appearing on my website, to help inquisitive individuals of all ages learn more about engineering. We may know something about engineering because we frequently see or use the results of engineers' efforts. Another way to learn about engineering is to meet some exemplary engineers. Arthur E. Morgan—engineer, student, entrepreneur, public servant, educator, creator, college president, and author—is an exemplary engineer. Read his story and, if you want to know more, use the sources listed at the end of this bio.
Stuart G. Walesh, PhD, PE
stu-walesh@comcast.net
Youth and Promise
This description of Morgan is based, except where supplemental sources appear, on Clarence J. Leuba's biography of Morgan1. Born in 1878 near Cincinnati, Ohio, Arthur Morgan's family soon moved to St. Cloud, Minnesota where he grew up. He was raised in a culturally diverse and sometimes conflicting setting because most of the people in his community were recent arrivals from European countries and practiced Catholic and Protestant faiths.
Home life was stressful because of mother-father conflicts and the many boarders taken in to generate income. Accordingly, young Morgan "undertook to think through, for himself, a way of life which, among other things, would resolve the conflicts in his surroundings and be satisfying to him." That thinking exercise probably informed his many later accomplishments.
On the positive side, and in support of his then and later thinking, both parents valued formal and informal learning. Young Arthur read often and widely, spurred on by his parents, many books and magazines in his home, and St. Cloud's superior library.
As a teenager, Arthur Morgan wrote this: "I don't intend to be commonplace. I intend to make a great person of myself… great in having fulfilled my possibilities: great in having seen which of my possibilities are greatest." Are these the naïve thoughts of an arrogant young person or the serious reflections of a confident individual desiring to practice stewardship with his gifts? His life suggests the latter. Morgan was becoming a "serious-minded, independent, observant, restless, energetic young man."
Morgan's creative life drew, in part, on his widespread observations, intense curiosity, and thorough follow-up actions. In reflecting on his childhood, he said: "I was inordinately curious. When older people were talking, I had an irresistible urge to 'listen in,' and if I did not understand, to ask questions."
He went on to say, "much of my free time as a boy was spent in the woods and swamps about St. Cloud, Minnesota, where curiosity took the form of observation of earth and sky, streams, plants, and animals. As a result of this habit of curiosity and observation, my mind was stored with a vast miscellany of facts, which served as the material for thinking" and, we might add, for lifelong creating.
Surveying, Engineering, and the New Minnesota Water Control Law
After high school graduation, Morgan taught for a few months in a one-room school; attended the summer session at a school that trained teachers; and worked, walked, rafted, hitch-hiked, and traveled by train to get to Colorado. Once there, he did odd jobs, met some rough characters, took some courses at the University of Colorado, helped manage an apple orchard, sold books, attended churches of various denominations, visited libraries, almost got married, and headed back to St. Cloud.
According to his biographer, Morgan's Colorado venture taught him "he did not want to get into farming or coal mining or into anything else which seemed devoid of expanding opportunities." Clearly, he was a builder and change agent—not a maintainer.
After working on a government survey crew, he and his father formed Morgan & Son and offered surveying and engineering services, with the understanding that father and son were equal partners. Arthur Morgan's father was a respected surveyor and was "repeatedly elected county surveyor and sometimes city engineer." Now, with Morgan in the business, it grew, and ever-proactive Morgan discovered a lack of engineers with water control expertise. He targeted and studied that specialty, worked in it, and soon was an expert in the technical aspects of water control, including the financial and legal components.
Then Morgan delved into examining Minnesota's and other states' water control laws.
He led a creative and relentless iterative process to draft a greatly improved water control law for Minnesota. The law was widely reviewed and, because of his efforts:
The law was adopted.
Morgan became secretary of the Minnesota Engineers and Surveyors Society.
The Governor appointed Morgan as the state's representative to the National Drainage Congress.
Morgan, at age 29, had the largest water control engineering practice in the state.
Morgan moved to the position of supervising engineer for the U.S. Department of Agriculture's Office of Drainage Investigations.
Of the preceding efforts and results, Morgan said that an engineer is not limited by his or her intellect or imagination but, instead by "lack of emotional drive to persist in effort until conclusive comparisons could be made of all significant alternatives." He believed that engineers missed finding creative solutions if they only considered what worked in the past. That kind of narrow thinking is now called design fixation or the Einstellung Effect2.
The preceding introduction into Arthur E. Morgan's engineering and other successes, in effect, describes him as curious, service-oriented, dissatisfied, studious, driven, honest, and creative. He was a Renaissance engineer.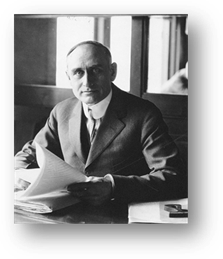 Arthur E. Morgan, Renaissance engineer. Source: John M. Morgan 3
Having established his character, and for the sake of brevity, the next section simply notes his other major accomplishments: Founding an engineering firm, establishing the Miami Conservancy District, rescuing Antioch College, organizing the Tennessee Valley Authority, and enhancing small communities. Be assured that the listed character traits were at work in all his efforts.
Contributions to Engineering, Education, and Beyond
In 1910, Morgan formed Morgan Engineering Company, which successfully completed many water control projects focused along the Mississippi River south of its confluence with the Ohio River. He insisted, consistent with his Minnesota successes, that his firm practice what he called "conclusive engineering analysis," which meant "every possibility must be explored in search for the best solution." In other words, don't be trapped by design fixation or the Einstellung Effect.
As a result of the Great Dayton Flood of 1913, which caused 400 casualties and widespread devastation, a Flood Control Committee was formed and they retained Morgan and his firm to prevent a similar disaster4. One result of his leadership was formation of Ohio's Miami Conservancy District, a new type of government structure that encompassed the 400-square-mile Miami River Watershed.
Morgan's other major accomplishment was development of a comprehensive water control plan for the watershed. It included a system of "dry reservoirs" or "retarding basins," that is, various sized and configured storage facilities that would operate automatically in concert, and store water only during and shortly after a flood event, thus protecting downstream areas. While dams and reservoirs had been used nationally for other purposes, such as power generation, irrigation, and floating logs, constructing them for flood control was a new approach. The temporary use concept was also innovative because it freed up the land, most of the time, for agricultural, park, and other open space uses. After 50 years of operation, a consulting board analysis found "no material conditions needing corrections" in Morgan's creative system of reservoirs.
Now, because of his dissatisfaction since youth with formal education, engineer Morgan boldly moved into academia. In 1919, in his early forties, he was appointed to the board of Antioch College, a struggling institution in Yellow Springs, Ohio. This was Morgan's opportunity to try out his education and community ideas, which included attending to a student's intellectual, physical, and moral growth; providing a broad education (science and humanities); focusing on intramural sports (no spectator sports); and offering work-study programs.
He soon became president, implemented his ideas, and in 15 years, Antioch was one of the nation's top colleges, drawing students and faculty from across the United States and faculty from beyond5.
Then, in 1933, Arthur Morgan left Antioch College because newly elected President Franklin D. Roosevelt asked him to chair a three-director board for a huge development project called the Tennessee Valley Authority (TVA). The TVA included portions of seven economically and socially struggling southeastern states, and the project was described as "the greatest effort at regional development of natural resources and human beings ever attempted in the history of the world."
Who better to lead it than engineer-educator-humanist-doer Arthur Morgan? He accepted, dove in, and established the structure of the TVA. However, after six years, President Roosevelt removed him from his position for "contumacy"—stubborn refusal to submit to authority. The underlying issue was dislike by the other directors of Morgan's uncompromising visionary and ethical views6
Morgan returned to Yellow Springs, Ohio in 1939, founded Community Services, Inc., and turned his attention to revitalizing small communities, which he called the "Seedbed of Society." In addition to his earlier efforts for the benefit of Yellow Springs and elsewhere, Morgan now started the community of Celo in the North Carolina mountains, wrote the book The Small Community, supported improvement of a small community in India, and influenced development of rural universities in India.
Notice how Arthur Morgan—drawing on his exploratory or growth mindset—worked, created, and improved in the private, public, and academic sectors, and in technical and nontechnical spheres. An engineering education is a great starting point for that kind of varied career. As Morgan stated: "Lack of something to feel important about is almost the greatest tragedy a [person] can have7." Engineering offers a way to "feel important about" something and do something about it.
Cited Sources
1) Leuba, C. J. 1971. A Road to Creativity—Arthur Morgan—Engineer, Educator, Administrator. North Quincy, MA: Christopher Publishing House.
2) Walesh, S. G. 2017. Introduction to Creativity and Innovation for Engineers. Hoboken, NJ: Pearson, Chapter 3.
3) Morgan, John, M., 2020. Grandson of Arthur E. Morgan, personal communication with author, December 9. Susan Jennings, Executive Director of The Arthur Morgan Institute for Community Solutions, referred the author to J. M. Morgan.
4) Miami Conservancy District (MCD). 2020. "MCD Founders." https://www.mcdwater.org/about-mcd-2/the-history-of-mcd/mcd-founders/, accessed April 16, 2020.
5) Harrington, D. S. 1975. "The Life of Arthur Morgan." an address delivered at the Community Church of New York, Harvard Square Library, https://www.harvardsquarelibrary.org/biographies/arthur-e-morgan-2/, accessed May 2, 2019.
6) Harrington, D. S. 1975. "The Life of Arthur Morgan." https://www.harvardsquarelibrary.org/biographies/arthur-e-morgan-2/, accessed May 2, 2019.
7) Leuba, C. J. 1971. A Road to Creativity—Arthur Morgan—Engineer, Educator, Administrator.
Note: Want to learn more about engineer exemplars and engineering excellence? See Chapter 2 in my book Engineering's Public-Protection Predicament.
---
Learn More About Stu Walesh | Clients Served | Testimonials & Reviews
Managing and Leading Books | Tailored Education & Training
Home | Legal Notice | Privacy Statement | Site Map
Copyright © Stuart G. Walesh Ph.D. P.E. Dist.M.ASCE
Web Site Design, Hosting & Maintenance By Catalyst Marketing / Worryfree Websites