University Adoptions of Engineering Your Future
Stu Walesh's textbook Engineering Your Future: The Professional Practice of Engineering-Third Edition, which was published by Wiley in 2012, has been adopted by, at least, the following colleges and universities: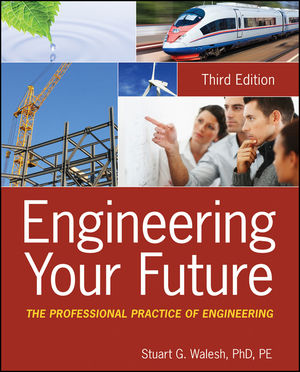 California State University - Long Beach

Chattanooga State Technical Community College

Citadel Military College

Cornell University

Hawaii, University of, Manoa

Indiana University-Purdue University - Ft. Wayne

Johns Hopkins University

Le Tourneau University

Louisiana, University of - Lafayette

Louisville, University of

Memphis, University of

New Haven, University of

Pittsburgh, University of

South Dakota School of Mines and Technology

Southern Methodist University

State University of New York - Buffalo

State University of New York – Oswego

Texas A&M University

Union College

Washington State University

Western Michigan University

Widener University
The preceding list includes only those colleges and universities where Engineering Your Future was purchased directly through Wiley representatives.
PowerPoint slides and syllabus: PowerPoint slides and a syllabus template are accessed via the instructor support site.
Meets the needs of capstone design/senior design/senior project/professional practice courses: To meet engineering program accreditation requirements, essentially all students who earn a BS in engineering (about 80,000 each year in the U.S.) have to complete a "major design experience" course or courses during their senior year plus demonstrate specific non-technical capabilities over their entire program. These requirements mean that many courses must include non-technical topics and EYF provides the content. (Similar professional practice/non-technical requirements apply to engineering education programs in other countries.)
Aligned with the Body of Knowledge (BOK) movement: The content of EYF is aligned with the BOK movement that began within the U.S. engineering community about 15 years ago. Engineering societies such as AAEE, ASCE, and NSPE have developed BOKs. These BOKs are intended to influence the education and early practice of engineers.
Applicable to all engineering disciplines: EYF3 provides professional practice (non-technical or "soft-side") guidance to students in all engineering disciplines. The book includes, but goes beyond, the usual content of non-technical books for engineers by devoting entire chapters to additional important topics such as developing relationships, business and personal accounting, achieving quality, role and selection of consultants, marketing, and leading change.
Faculty, students, and others: If you have questions about EYF3, want to offer ideas for improvements to appear in the next edition, or have found errors; please contact the author at stu-walesh@comcast.net.
Click here for a description of the book; to see its table of contents; to request an evaluation copy; and/or to order as a soft cover, an e-Book, or in the form of one or more chapters.
Learn More About Stu Walesh | Clients Served | Testimonials & Reviews
Managing and Leading Books | Tailored Education & Training
Home | Legal Notice | Privacy Statement | Site Map
Copyright © Stuart G. Walesh Ph.D. P.E. Dist.M.ASCE
Web Site Design, Hosting & Maintenance By Catalyst Marketing / Worryfree Websites