Octave Chanute: Engineer and Aviation Pioneer
Note: I wrote this "mini-biography," which is part of an evolving series appearing on my website, to help inquisitive individuals of all ages learn more about engineering. We may know something about engineering because we frequently see or use the results of engineers' efforts. Another way to learn about engineering is to meet some exemplary engineers. Octave Chanute, an accomplished civil engineer and then, later, an aviation pioneer, is an exemplary engineer. Read his story and, if you want to know more, use the sources listed at the end of this bio.
Stuart G. Walesh, PhD, PE
stu-walesh@comcast.net
Octave Chanute, son of Eliza and Joseph Chanute, was born in Paris, France in 1832. He came to the United States in 1838, at age six, when his father, then a professor at the College de France, accepted the Vice-President position at Jefferson College near New Orleans in Louisiana. They moved to New York in 1846 where Chanute attended private schools. At about age 17, he started his self-taught education and training as a civil engineer. 1,2,3
Engineering Practice
Chanute's first job was as a member of a surveying crew for the Hudson River Railroad. He advanced rapidly, as a civil engineer, over the next decades working for several railroads eventually serving, from 1873 to 1883 as chief engineer of the Erie Railroad Company. 4 Chanute practiced as an independent consultant until 1989. 5
As a practicing engineer, Chanute led an amazing number of engineering projects. He engineered the Chicago and Kansas City stockyards and was part of the team that designed the Hannibal Bridge, the first bridge to cross the Missouri River at Kansas City MO. His engineering credits include railroad bridges at Chillicothe IL, Portageville NY, Sibley MO, and Fort Madison IA. 6
Often innovative, he created a process for pressure-treating wooden railroad ties with an antiseptic to increase their useful life. He also developed a method for monitoring the longevity of ties and other wooden structures. Ever versatile, Chanute helped plan an elevated railway system for New York City. 7
As is usually the case for notable professionals, Chanute volunteered to serve various engineering societies and in other ways exemplified professionalism. For example, he was:
President of the American Society of Civil Engineers 8
President of the Western Society of Engineers 9
President of the Aero Club of Illinois 10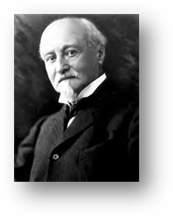 Source: Wikipedia
Flight Research and Collaboration with the Wright Brothers
Having largely completed his engineering practice at age 58 in 1890, Chanute turned his attention to the possibility of winged flight. Motivated by observations of the impact of wind on bridges and roofs, Chanute began to study what was known around the globe about heavier-than-air flight and, in the process, corresponded with other aviation pioneers. His research led to a series of published papers, which evolved to become his 1894 classic book Progress in Flying Machines. 11,12
Chanute organized events that brought world aviation experts together, such as the International Conference on Aerial Navigation held in Chicago in 1893 as part of the World Columbian Exposition. Colonel Warren Roberts, one of Chanute's followers, noted that Chanute worked to interest young engineers in aviation and said he "read widely and wisely" and "seemed like a walking library to a young engineer." 13
Building on what he had learned about flight theory, Chanute funded the design and construction of many gliders that were test flown, during the summers of 1896 and 1897, by younger associates on the sand dunes in Indiana along the south shore of Lake Michigan. 14,15 The following image illustrates a typical glide test.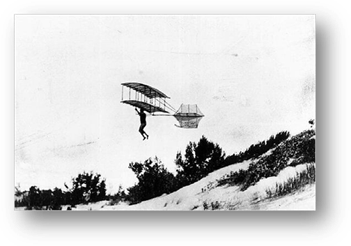 Source: Wikipedia
During the two summers, the team conducted more than 700 glide tests using various single and multi-wing configurations—as many as 12 wings. The team's testing led to the conclusion that the biplane glider—two-winged—was the most effective.
Because of reading Chanute's book, Wilbur Wright began to correspond with Chanute in 1900, which led to a productive working relationship. Over the next few years, they discussed many topics, sometimes during one of Chanute's visits to Kitty Hawk, NC, such as aircraft design and where and how Orville and Wilbur Wright should conduct their powered flights. The Wrights adopted the biplane configuration that resulted from Chanute's tests conducted at the Indiana sand dunes. 16
Unfortunately, in 1905, two years after the Wright brothers' successful first flight, they and Chanute had a falling out. It resulted from the Wrights' reluctance to share some of their flight control and other ideas with other aviation enthusiasts, which clashed with Chanute's highly collaborative approach to scientific and engineering discoveries. 17
Recognition by Profession and Public
Octave Chanute earned the respect and admiration of the engineering profession and the public because of his engineering accomplishments, aviation contributions, and collaborative manner. Accordingly, he and his contributions are commemorated in many ways and places. Some examples: 18,19
Town of Chanute, Kanas
Former Chanute Air Force Base in Illinois and Octave Chanute Aerospace Museum at the decommissioned base
Chanute's induction into the International Air & Space Hall of Fame (1974)
U.S. Postal Service Octave Chanute airmail stamp (1978)
Designation, by the National Soaring Museum, of the southern Lake Michigan sand dunes as a national landmark of soaring (1996)
Chanute Complex resident hall at the Embry-Riddle Aeronautical University in Florida
Gary, Indiana Aquatorium honoring Octave Chanute and the Tuskegee Airmen
Recognitions of Chanute by the British Institution of Civil Engineers and the Canadian Society of Civil Engineers.
Chanute's inclusion in the Frieze of American History in the Capitol Rotunda in Washington DC, as shown in the following image.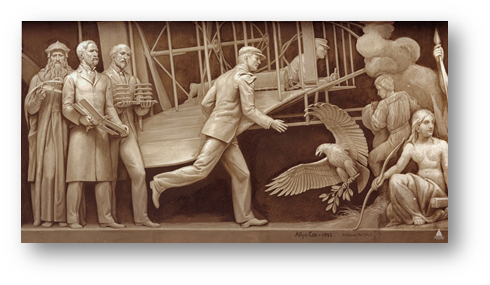 Leonardo da Vinci, Samuel Langley, Octave Chanute, Wright Brothers
Source: U.S. Capitol Visitor Center
In 1910, after two decades of aviation contributions, Octave Chanute passed away in Chicago at age 78 while afflicted with pneumonia. At the funeral, Wilbur Wright stated, in his eulogy, that Chanute "had vast influence in bringing about the era of human flight." 20,21,22
---
Sources:
1) Wikipedia. 2022. "Octave Chanute." https://en.wikipedia.org/wiki/Octave_Chanute, accessed September 8, 2022.
2) Weingardt, R. G. 2005. Engineering Legends: Great American Civil Engineers—32 Profiles of Inspiration and Achievement. "Chapter 3: Transportation Trendsetters." Reston, VA: ASCE Press.
3) Crouch, T. D. 2022. "Octave Chanute: American Engineer." Encyclopedia Britannica. https://www.britannica.com/biography/Octave-Chanute, accessed September 8, 2022.
4) Crouch, T. D. 2022. "Octave Chanute: American Engineer."
5) Clark, A. 2022. "Octave Chanute: From Railroad Engineer to the Father of Aviation." https://disciplesofflight.com/octave-chanute/, Disciples of Flight, accessed September 8, 2022.
6) Wikipedia. 2022. "Octave Chanute."
7) Short, S. 2011. Locomotive to Aeromotive: Octave Chanute and the Transportation Revolution. Champaign, IL: University of Illinois Press.
8) Weingardt, R. G. 2005. Engineering Legends
9) Weingardt, R. G. 2005. Engineering Legends
10) Wikipedia. 2022. "Octave Chanute."
11) Weingardt, R. G. 2005. Engineering Legends
12) Short, S. 2011. Locomotive to Aeromotive
13) Weingardt, R. G. 2005. Engineering Legends
14) Short, S. 2011. Locomotive to Aeromotive
15) Clark, A. 2022. "Octave Chanute: From Railroad Engineer to the Father of Aviation."
16) Clark, A. 2022. "Octave Chanute: From Railroad Engineer to the Father of Aviation."
17) Clark, A. 2022. "Octave Chanute: From Railroad Engineer to the Father of Aviation."
18) Wikipedia. 2022. "Octave Chanute."
19) Short, S. 2011. Locomotive to Aeromotive
20) Crouch, T. D. 2022. "Octave Chanute: American Engineer."
21) Weingardt, R. G. 2005. Engineering Legends
22) Clark, A. 2022. "Octave Chanute: From Railroad Engineer to the Father of Aviation."
---
Learn More About Stu Walesh | Clients Served | Testimonials & Reviews
Managing and Leading Books | Tailored Education & Training
Home | Legal Notice | Privacy Statement | Site Map
Copyright © Stuart G. Walesh Ph.D. P.E. Dist.M.ASCE
Web Site Design, Hosting & Maintenance By Catalyst Marketing / Worryfree Websites