Design Fixation: Fix It and Innovate More
When faced with a new technical or non-technical problem, have you, individually or as a team, had a conversation something like this? "Have we encountered a similar problem? Yes. How did we solve it? Like this. Then let's solve this one that way."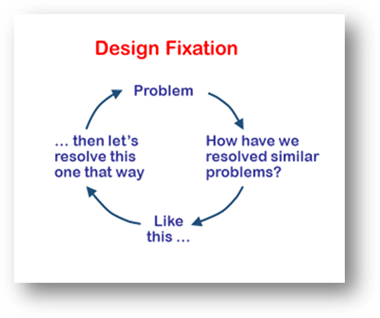 If so, you know that the process usually works -- it solves problems. That's good news!
What you may not know is that you are practicing design fixation, also called reproductive thinking or the Einstellung Effect. You're assuming that if this solution worked in the past for similar problems, it will work for your latest problem – a reasonable assumption.
What you may not realize is the bad news. Your intentional or unwitting application of design fixation causes you to miss innovation opportunities and the attendant benefits for you and those you serve. Design fixation closes the door to creative problem solving because we become prisoners of the past. As so nicely stated by economist John Maynard Keynes, "The difficulty lies not so much in developing new ideas as in escaping from the old ones."
An Example
My engineering firm colleagues and I had an opportunity to design, "from scratch," how we would use space for our branch office on the entire floor of a new building. Our initial thought, following design fixation thinking, was to apply the same logical layout we had used across our company. That is, group people with similar functions together -- engineers with engineers, planners with planners, marketers with marketers, administrators with administrators, etc.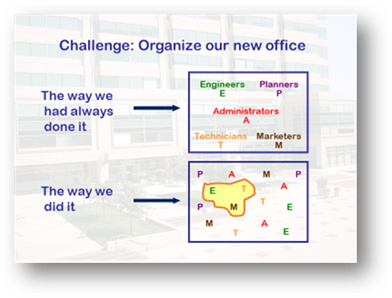 Fortunately, we did not follow our initial impulse. Instead, we decided to "mix" everyone up. Reason: This arrangement, heterogeneous with respect to job functions, could enhance communication relative to our traditional homogeneous arrangement. Each of us would have more opportunities to learn about others and their work and, as a result, more fully appreciate our firm's diversity of expertise, function, projects, and clients/owners.
It worked. For example, I, an engineer, was given an office with a technician on one side and a marketing person on the other side (see yellow in the image). As a result, I gained more appreciation for the creative and sophisticated field work done by Jerry, and our firm's other technicians, and received a "short course" in marketing from David.
The Better Way: A Whole-Brain Approach
My studies of neuroscience basics, invention case studies, and tools used to encourage fresh thinking and collaboration convince me that we, individually or as teams, will be more creative and innovative if we use a whole-brain approach. Let's strive to use our left and right hemispheres so that the logical, verbal, and abstract capabilities of our left side interacts synergistically with the emotional, intuitive, and synthesizing capabilities of our right side. In doing this, we must apply our conscious minds, of which we are well aware, to more fully engage our much more cognitively active, but elusive, subconscious minds.
Whole-brain thinking, as an alternative to design fixation, is nicely encapsulated in the double diamond process.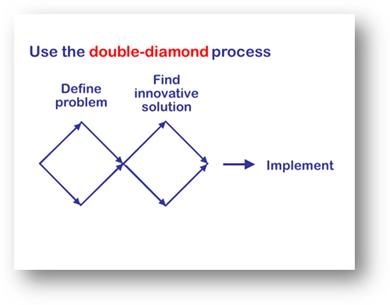 In the first diamond, we use divergent thinking to explore possible problem definitions -- more is better at this stage and almost anything may be suggested. Divergent thinking is all about generating ideas. Scientist Linus Pauling said "the best way to have a good idea is to have lots of ideas." American writer John Steinbeck noted that "ideas are like rabbits. You get a couple, and learn how to handle them, and pretty soon you have a dozen." After thorough divergent thinking, we use convergent thinking to select the best problem definition to complete the first diamond.
For some engineers, giving adequate attention to the problem-definition diamond is challenging because of our impatient "let's get it done" attitude. Usually this may be considered admirable. But, rushing through the first diamond may lead to: solving the wrong problem, missing benefits that could arise from a solution, failing to serve some stakeholders, spending more than necessary, or harming the environment. "A problem well stated is a problem half-solved," according to engineer Charles F. Kettering.
Armed with a solid problem definition, move into the second diamond and repeat the broad and deep divergent-convergent thinking process to fully explore the possible solutions and then select one. Clearly, the diamonds must be done in the indicated order -- they force discipline and stimulate broad and deep individual and group thinking.
Tools to Use When Applying the Double Diamond
Fortunately, we have many tools available to use during the two divergent-convergent phases. These methods stimulate individuals and, more powerfully, groups to think much deeper and wider -- to generate more ideas while working through the two diamonds.
My book Introduction to Creativity and Innovation for Engineers provides a "box" of 20 tools, a sampling of which includes: Ask-Ask-Ask, Biomimicry, Borrowing Brilliance, Fishbone Diagramming, Freehand Drawing, Mini-Medici Effect, Mind Mapping, Ohno Circle, Six Thinking Caps, TRIZ, and What If.
These tools recognize that while creative/innovative ideas lie within most of us, we need mechanisms, such as the two diamonds and the preceding tools, to release them. Your organization is loaded with creative ideas -- your personnel are a gold mine of innovation. Mine the gold for everyone's benefit by moving from design fixation to whole-brain thinking, stimulated by the double diamond.
Notes:
---
Learn More About Stu Walesh | Clients Served | Testimonials & Reviews
Managing and Leading Books | Tailored Education & Training
Home | Legal Notice | Privacy Statement | Site Map
Copyright © Stuart G. Walesh Ph.D. P.E. Dist.M.ASCE
Web Site Design, Hosting & Maintenance By Catalyst Marketing / Worryfree Websites